RFID Labels

RFID labels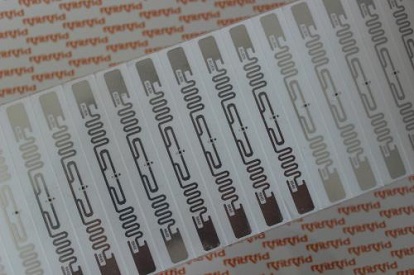 Radio-frequency identification (RFID) is an automatic identification method, relying on storing and remotely retrieving data using devices called RFID tags or transponders. It is an automatic 'radio tagging' identification technology whereby digital data encoded in an RFID tag or 'smart label' which is captured by a reader using radio waves. Put simply, RFID is similar to barcode technology but uses radio waves to capture data from labels (tags), rather than optically scanning the bar codes on a label.

A smart label contains the RFID tag as well as printed bar codes and alphanumeric characters. The printed material can provide redundant UPC and EPC data that can be picked up by a bar code scanner or read by a warehouse employee if the RFID tag cannot be read. RFID smart labels are printed and encoded at the same time in an RFID printer.

Smart labels are an exciting, emerging type of data carrier that combine the read range and unattended processing capability of radio frequency identification (RFID) with the convenience and flexibility of on-demand label printing. A smart label is an adhesive label with an RFID tag embedded inside. The tag can be encoded with variable data and tested before the label is printed. The label can contain all the bar codes, text, and graphics used in traditional applications. This powerful combination provides unmatched data capacity, security, and flexibility for enhancing and extending identification and data collection applications.

Companies buy finished RFID labels and then apply them to packaging. Discturnkey Fulfillment has the capability to integrate RFID transponders into a wide portfolio of label constructions. In collaboration with world-class technology partners, we can design and manufacture an RFID Label product that meets your specific business and technology requirements.

Using proven, tested and consistently performing Discturnkey Fulfillment's smart labels will allow you to confidently pursue your RFID initiatives with predictable results, which can not only get you up and running faster but also keep your project phases on target to meet critical deadlines.